Rubicon Development is a BAFTA-nominated independent game developer of some renown. We have been developing and selling cutting edge games directly to you, the public, for many years now and with some success. If you are an existing customer, thank you for making that possible.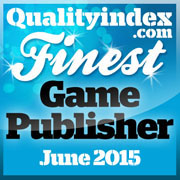 Our Great Little/Big War Game series is well known and highly acclaimed among public and professional critics alike.
Our newest game - Combat Monsters - is doing to the CCG genre what GLWG did to the turn-based strategy game. Owning it. If you've somehow not seen it yet, go check it out...
Click the banners below to find more about our games. Or why not join us in our Forum.