Fantastic. Latest update – now with added GUI
Wow, things are really starting to pick up now. The actual combat and abilities/magic/etc is all coming along really nicely. So much so that the "programmer art" front end was starting to the let the side down a bit.
So, us being indies and therefore not needing three meetings to discuss who should be in the design meeting about the front end, we just magiced up a front end.
Clearly it's not finished yet, and those text "icons" are gonna need some lurve at some point, but the general layout and style is finalised and we're all really happy with how this is moving along.
Without further ado…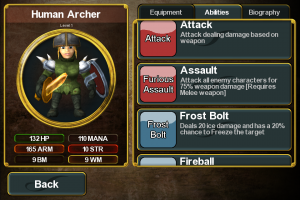 Curiosity? Result! Fantastic, now with added acronymns. This time, AI